WP Remix 2 is a WordPress powered master theme, which is quite simply amazing! WP Remix 2 is a multi purpose, completely customizable theme which enables anyone to publish a custom website in minutes.
It features over 50 page layout options including: a blog layout, 10 homepage options, 20 single page with different layouts, 10 product/gallery page and 5 miscellaneous pages. WP Remix 2 is the only WordPress theme available that offers WYSIWYG page template editing, allowing you to create and edit pages in the visual editor like a CMS. The theme also features 7 color schemes, Ajax slider, Smart Drop menu, Tabs, Tables, and even comes with a free PHPBB3 forum template.
A couple of screen shots of different layout options are show below, but check out the WP Remix demo to test the huge range of page layouts and options that are possible with this theme.
Home Page Option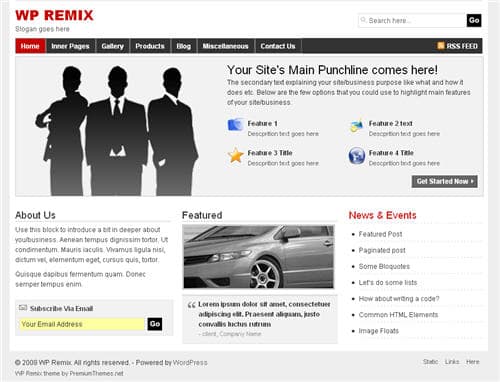 Home Page Option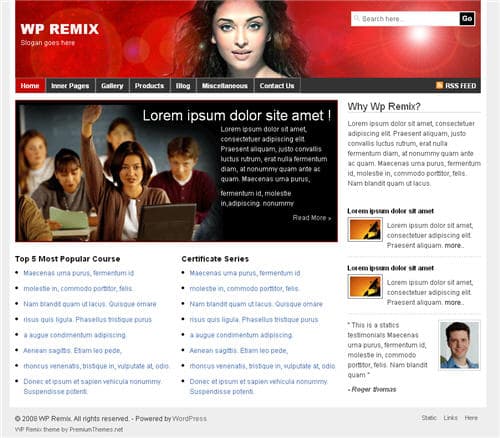 Page Layout Option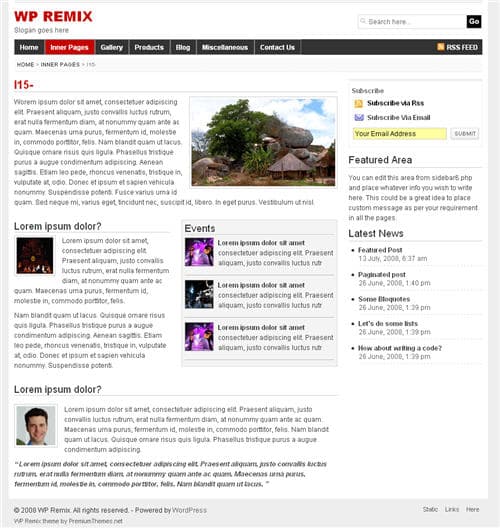 Page Option with Tables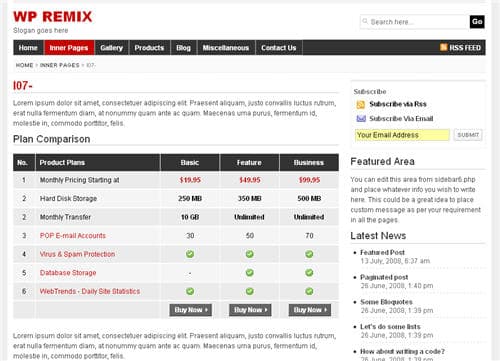 Features:
WYSIWYG Page editor: Insert and edit page template directly from visual editor. A complete CMS experience.
Over 50 Page Templates: Choose from over 50 pre-structured, strategically built page templates that covers almost every layout possibility.
Flexibility: Create different pages and have same sidebar, header, footer for all pages or you can have them different for each of them!
Smart Drop Menu: The smart drop menu in wpremix 2 remembers exactly where you are and where you came from!
Dynamic Codes: Insert and execute PHP and Java script codes from visual editor following WP Remix code guide.
Add-on modules: Built in such way, it accommodates add-on modules that you can use to empower WP Remix. such as shopping cart, dynamic gallery, magazine module.
7 Color Schemes: Simply select one of your choice from theme admin options
Theme Admin options: You don't have to mess with the theme code. Set basic options directly from theme admin options such as Color Scheme, Feedburner ID, Flickr Id.
Ad Monetization: The sidebars, blog and magazine module has strategic ad place holders that you can use to sell ad space or promote your own products.
Grid Based Layouts: The theme and page templates has been built according to 18 column grid that make your designs not only more beautiful and legible, but more usable.
Famous Plugins Compatible: It is pre-configured and pre-formatted for the famous plugins like Contact-Form[ ], Page Navi, Gravatar, Flickrss, Post Rating, Author Highlight.
Clean, crisp design and typography
Contact Form
SEO ready
Widget ready
Printable Pages
Support Forum
Pre styled HTML Elements
Documented Theme Guide PDF
Free Technical Upgrades
W3C valid, Cross browser Compatible
Price:
Single Use: $75
Multiple Use: $275
Demo | Release Page | Purchase
Rate this theme:
[ratings]