Mortar is an extremely flexible, multipurpose premium WordPress Theme from WooThemes. The homepage arranges posts vertically then horizontally, and you can select either a 1, 2, 3 or 4 column layout giving you complete flexibility. The Mortar theme also features an integrated options panel to tweak and manage settings, 8 different colour scheme options and more.
Default Style with 3 Column Layout

Style with Background Image and 4 Column Layout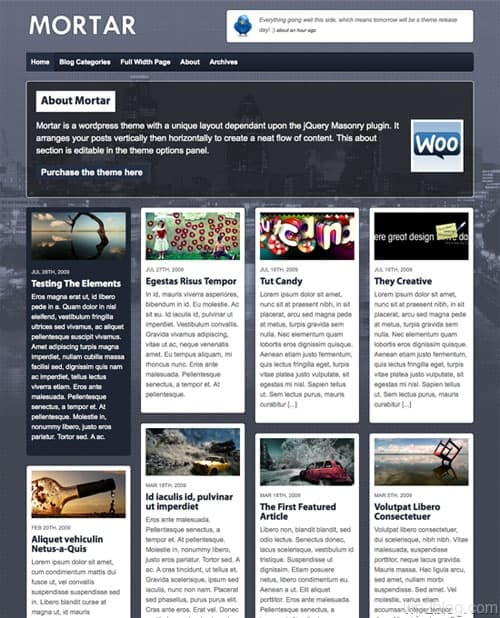 2 Column Layout

Features
The home page and archive page have the option to arrange the posts in 1, 2, 3, or 4 columns giving you complete flexibility with your layout
8 amazing colour schemes to choose from
Built on the popular JQuery layout plugin Masonry, the home page arranges blog posts vertically then horizontally to make sure there is a neat grid of posts with no spacious gaps between them
A completely widgetized sidebar with 2 custom widgets included in the theme packaging.
No third party widgets required
Integrated Theme Options (for WordPress) to tweak the layout, colour scheme etc. for the theme
Threaded Comments for WordPress 2.7+
Drop down navigation menu
Custom Page Templates for Archives & Sitemap
Built-in Gravatar Support for Comments
Integrated top banner ad space, which can accommodate both image banner ads or AdSense embeds
Optional Twitter, Ad Banner and About modules
Price:
Single Use: $70
Developer: $150
Woo Themes have a permanent 2-for-1 offer which means if you purchase a theme you get any other theme free! You can also join the WooThemes Club to access all current and future themes from Woo Themes.
Demo & Release Page | Purchase
Woo Themes have an excellent selection of high quality WordPress themes covering a wide variety of niches including: business, CMS, magazine/news, portfolio, photo lifestream, multimedia, personal and professional blog designs.