There is an ever growing number of 'premium' WordPress themes being offered for purchase – some are excellent and represent good value for money, some are average, while some themes being touted as 'premium' are just plain awful which you wouldn't even bother to use if they were available for free! The premium WordPress themes below are the 10 best premium (paid) WordPress themes, the cream of the crop, as of March 2008.
Live Wire Series Themes (Price: $99.95 – $249.95)
The Live Wire Series (comprised of Live Wire Style, Live Wire Edition and Live Wire 2.0) is a feature rich 3 column magazine / newspaper style premium WordPress theme.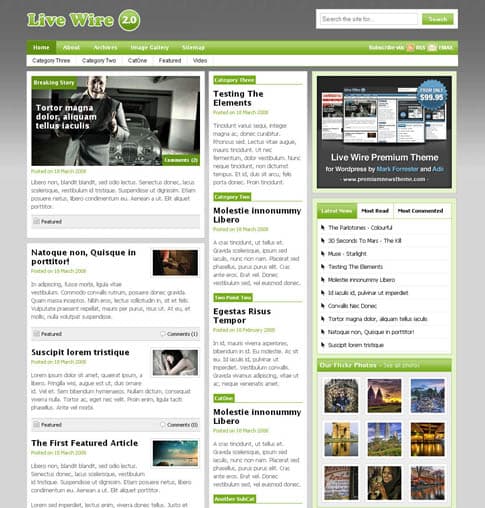 Mimbo Pro Magazine Theme (Price: $89.99 – $199.99)
Mimbo Pro Magazine is a powerful and feature-rich WordPress theme designed for magazine / news style sites. It features a colorful design and a customizable layout which should suit users of any skill level.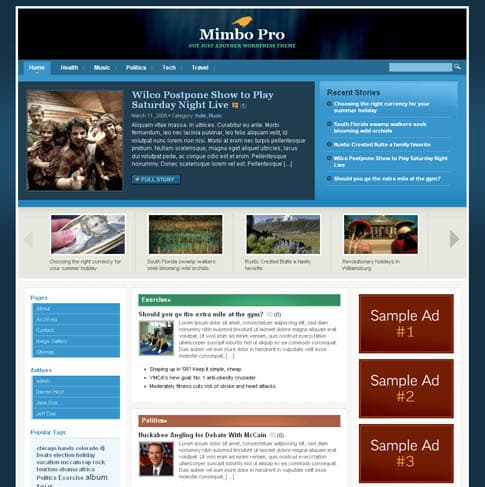 Content Press Theme (Price: $75 – $249)
The Content Press Theme is a news / magazine styled premium WordPress theme with a unique, but user-friendly interface. This theme features some special treats such as customized author pages, user avatars, featured articles, customized category and search results, and also includes a bbpress forum theme.

The Gazette Edition Theme (Price: $99.95 – $249.95)
The Gazette Edition is a magazine / newspaper style WordPress theme, which looks amazing and has some great features as well such as integrated options page to change colour schemes and homepage layout, featured article panel using Mootools, drop down navigation, and integrated ad management script.

Revolution Pro Media Theme (Price: $79.95 – $199.95)
A theme is structured towards media, making it an ideal theme for online media magazines and other media focused sites. Revolution Pro Media boasts a very diverse homepage – including a place for featured tabs, video, photos, and thumbnail images.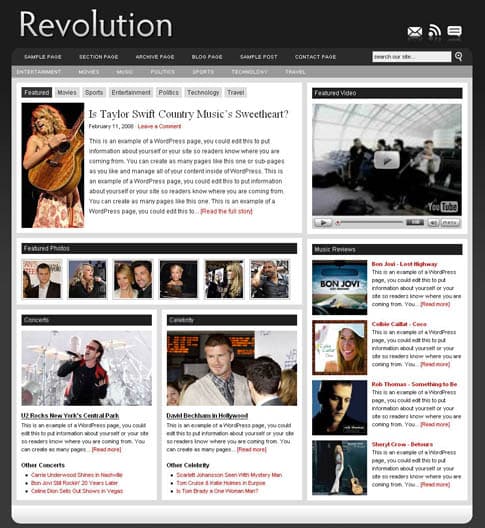 WP Remix Theme (Price: $55 – $155)
WP Remix is a WordPress powered master theme. The theme is completely customizable, quality coded & comes bundled with many different layout options that helps everyone create custom websites quickly and easily.

WP Magazine Theme 1.0 (Price: $79 – $279)
A professional WordPress theme with multiple layout options and multiple features including five different homepage layout options, featured article glider box and build in banner ad blocks.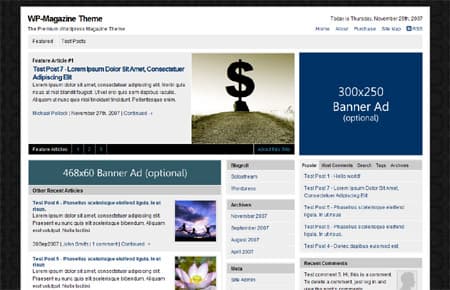 Revolution Tech Theme (Price: $79.95 – $199.95)
A theme ideal for the Tech fan, and who wants their site to feature a technology, focusing on the latest tech news, product reviews, etc.

Monochrome Pro Theme (Price: $75 – $199)
Monochrome is a magazine-style theme for WordPress packaged with an AJAX post slideshow, a custom theme admin page to easily manage and customize Monochrome, author archives, two page templates, multi-tier drop down menus, utilizes custom fields options and a CSS framework to aid in customization.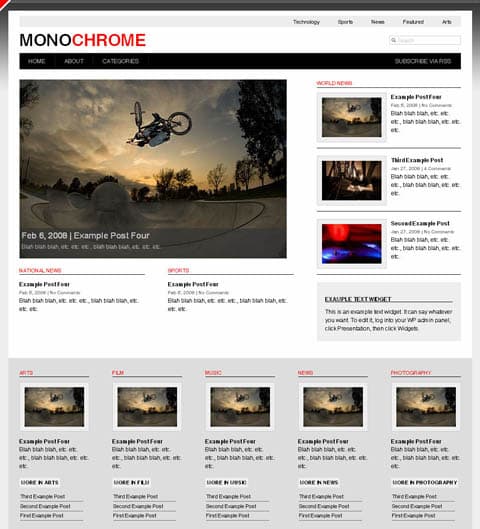 News Theme (Price: $75 – $245)
A simple yet clean and legible magazine-style theme.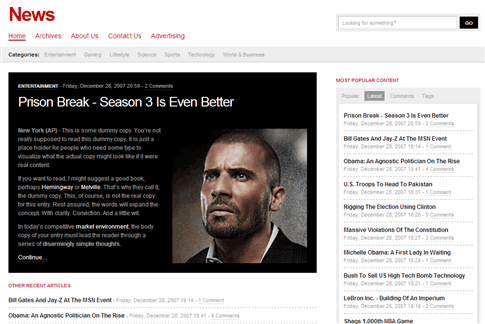 Don't agree? Know of another theme you think should be included? Tell us what you think.