Chocolate is a magazine / news style WordPress theme. It's being touted as a "premium WordPress theme built from the ground up to be customisable for content heavy web sites such as newspapers or magazines".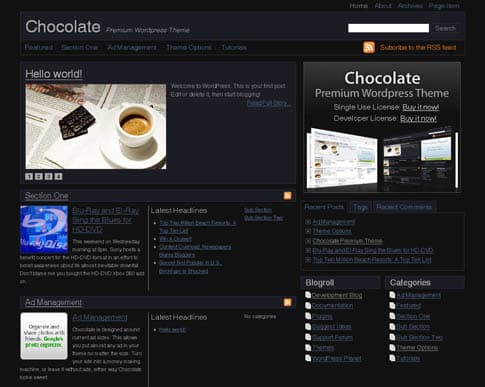 The default dark blue colour scheme with its dark background and dark text just doesn't really work well together, but apparently it also comes with 3 other lighter colour schemes which may look better. The chocolate theme isn't for everyone as the developer claims the theme is developed for people with some knowledge of WordPress and web development. You will need to put that knowledge to use with this theme, as its claimed that coding knowledge is required to work the ad management system, and functions like the drop down menus and rotating feature carousel don't function in all browsers.
Considering the rather messy layout, functionality problems and the fact there are arguably better magazine / news style WordPress themes available for free, I don't know if its worthy of being classified as a paid premium theme? I will let you decide.
Features:
Email Support
Free updates
Four color themes
Eight widget ready areas
Theme options
Clean modern design
Designed to accommodate several popular ad sizes
Customizable
CSS based on the Blueprint framework
Fully commented code
X-men like powers(no longer included)
Two home page styles: news/magazine and blog
Feature story carousel(display optional)*
Simple related posts widget
Post meta data widget
Ad placements managed by widgets
News list widget
Tabbed content widget
Basic SEO(search engine optimization)
Custom author page
Custom Icons
Robust comments support including separated trackbacks
Included custom templates: tags, 404 error, archives, custom archives page, author, search page and all the usual templates like category.
RSS links for categories and comments
Drop down menus(not functional in Opera or IE6)
* Carousel does not operate in IE 6 as of version 1.0, it will only display the latest featured article.
Price:
Single License: $50
Developer License: $100
Demo / Release Page & Purchase
This theme is no longer available for purchase. Check the newest premium wordpress themes or the best premium wordpress themes collection.