The Video Blog Dream Theme is being touted as a premium WordPress theme designed exclusively for video bloggers. It claims that the theme allows you to easily embed video from nearly any video site such as YouTube, Google Video, Revver etc but simply copying the ID of the video you wish to embed.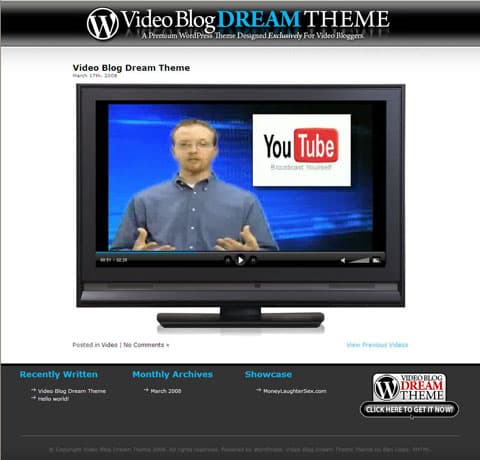 Features of the Video Blog Dream Theme:
Featured Video on Home Page
Search Engine Optimized
Select Which Video Category Appears on Your Home Page
Widget-Ready Theme
Custom Theme Options Page
Home Page Footer Can Easily Be Customized Using Built-In Sidebar Widgets!
Optional Thumbnail Images For Each Post
Feedburner Integration
Built in theme options page to customise the look and feel of the site
Four colour options – blue, green, pink, white
From what I can see this theme is aimed at the complete WordPress newbie wanting to get into video blogging, as it also includes the services of the creator to help you install the theme and set everything up if required. However if you know your way around WordPress, this theme probably isn't for you, as it doesn't seem to offer anything extra than what you can easily achieve with various free video plugins available for WordPress.
Three purchase options:
Self-Service: You install the Video Blog Dream Theme yourself (free e-mail support): $57
Limited-Service: You install the theme yourself, but the creator will make a custom header graphic for you, as well as install all the plugins you need (Plus, you'll get free e-mail and phone support): $127
Full-Service: The creator will install the Video Blog Dream Theme for you, as well as provide all the setup & customization you need!: $197
This theme is no longer available. Check out the latest premium WordPress themes or the best premium WordPress themes collection.