Vibrant CMS as the name implies is a good looking content management system (CMS) premium WordPress theme from WooThemes for business and small companies. The design incorporates some recently popular usability trends (like the featured info scroller on the homepage), and comes with 20 different color schemes.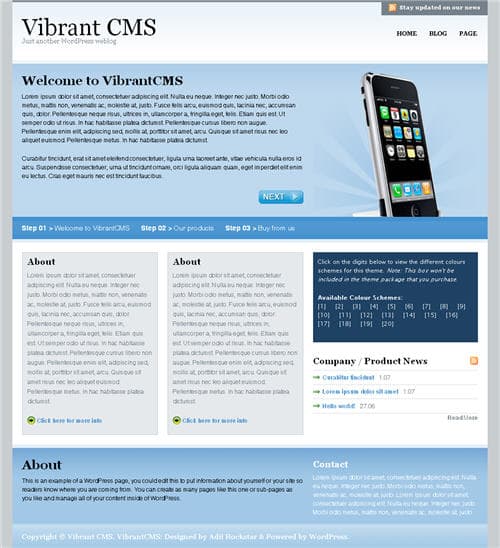 Features:
Easy-to-use featured scroller to broadcast your most important information;
A separate blog that is tucked away from the homepage; and
20 amazing colour schemes.
Integrated Theme Options (for WordPress) to tweak the layout, colour scheme etc. for the theme;
Built-in video panel, which you can use to publish any web-based Flash videos;
Automatic Image Resizer, which is used to dynamically create the thumbnails and featured images;
Custom Page Templates for Archives, Sitemap & Image Gallery;
Built-in Gravatar Support for Authors & Comments;
Integrated Banner Management script to display randomized banner ads of your choice site-wide;
Pretty dropdown navigation everywhere; and
Widgetized Sidebars.
Price:
Single Use: $70
Developer: $150
WooThemes Club: Access to all WooThemes WordPress Themes starting at $150 for three months access.
Demo | Release Page | Purchase
Rate this theme:
[ratings]