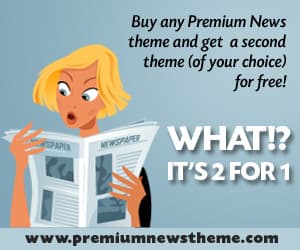 This is a reminder that Premium News Themes is currently giving you the opportunity to buy two of their high quality premium WordPress themes for the price of one. So if you've been thinking of buying a Premium News Theme but haven't been able to decide between Fresh News and Live Wire OR between the Gazette edition and the Original Premium News Theme, now you can get two themes for one price. This offer is valid until Saturday, 31 May.
The details:
This offer applies to both Single & Developer's Licenses.
If you buy two Single License theme, you'll be able to use the themes on two separate sites.
You can buy any combination of themes and it works in multiples of two i.e. if you buy 1 theme, you get one free; if you buy two themes, you get two free.
Visit Premium News Theme for more details and buy a premium News Theme and get a second theme for free.